Bren Smith, author of
Eat Like a Fish: My Adventures Farming the Ocean to Fight Climate Change
and executive director of
Greenwave
gives an inside view of the process of ocean farming and its potential to save the planet in two informative videos.
In "This Incredible underwater farm could be the future of food" produced by Pioneers for Our Planet Bren Smith describes his experience as a commercial fisherman that convinced him the earth needed saving and his vision of making ocean farming a widespread phenomenon.
In the second video, "Regenerative Ocean Farming" produced by NOAA Oceans Today, Smith speaks about the benefits of ocean farming and preparing ocean crops as nutritional and delicious meals. He demonstrates the steps to maintain his vertical ocean farm, which requires no fresh water, fertilizer, or feed.
Bren Smith spoke to educators and administrations at the 2020 First Year Experience conference in Washington D.C. about his experience as a restorative ocean farmer and the positive impact this book could have in classrooms: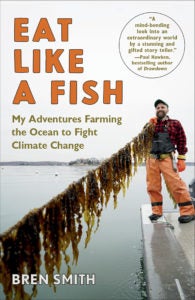 Winner of the James Beard Foundation Book Award for Writing
A genre-defining "climate memoir," Eat Like a Fish interweaves Smith's own life—from sailing the high seas aboard commercial fishing trawlers to developing new forms of ocean farming to surfing the frontiers of the food movement—with actionable food policy and practical advice on ocean farming. Written with the humor and swagger of a fisherman telling a late-night tale, it is a powerful story of environmental renewal, and a must-read guide to saving our oceans, feeding the world, and—by creating new jobs up and down the coasts—putting working class Americans back to work.
"A perfect balance between personal storytelling and blueprint for a new way to harvest
our seas that can create meaningful jobs while simultaneously combatting climate change."
—Forbes
"What a remarkable book! Bren Smith has a (wild) life story to recount, a novel food-growing
technique to describe, and a planet to help save. He's a deft enough writer to pull it all off,
with a wry joy that left me (more than usually) hopeful about our future." —Bill McKibben,
author of Eaarth: Making a Life on a Tough New Planet and Radio Free Vermont
"Smith is an articulate, very human ambassador for sustainable, ethical and environmentally
beneficial mariculture, weaving his plea for changing the way we eat with solid proof of why
it's so necessary. He includes a global history here as well, spanning coastal cultures from
China and Japan to Scotland and Atlantic Canada, all rich with best practices and viable
traditions. . . . If this new age of 'climate cuisine' needs an introduction, Eat Like a Fish is
surely it." —BookPage
Bren Smith is available for speaking engagements through the Penguin Random House Speakers Bureau.