"I have a strong urge to write something that will change people. I want to create a piece so moving that people are in disbelief. And I want it to be like handing people a pair of glasses, giving them a way of seeing something they didn't even realize they weren't seeing." —Mallory Smith
Salt in My Soul: An Unfinished Life (Spiegel & Grau; ISBN: 978-1-9848-5542-8) collects diary entries of Mallory Smith—a remarkable young woman who was determined to live a meaningful and happy life despite her struggle with cystic fibrosis and a rare superbug—from age fifteen to her death at the age of twenty-five.
The book, however, is more than a story of a girl who has an illness—at its core, it's a snapshot of a coming of age, an intimate portrait of a young woman living her life, struggling with who she is, what she hopes to accomplish, and what she fears. Mallory writes about topics that so many young people experience—wanting to fit in, wondering if anyone will love her, feeling insecure about her looks, grappling with breaking away from her parents and being independent, wondering what the future will look like. In doing so, she teaches us about resilience, discipline, inspiration, perspective, and insight.
Mallory's story is a testimony to the cathartic power of writing and journaling, particularly around one's daily experiences and emotions. Campuses interested in sparking conversations around student mental health will also find positive lessons in Salt in My Soul, as Mallory describes powerful tools that aided her emotionally: family/friends, exercise, writing, and nature/the ocean. She also recounts the universal experiences of being a college freshman, such as adjusting to life in the dorms, making friends, balancing a huge workload, and joining campus clubs. In her junior year, Mallory was selected to be a Peer Health Educator (PHE), whose role was to be responsible for the emotional and physical well-being of freshmen students.
Mallory's mother, Diane Shader Smith, travels around the country to speak on behalf of the book; most recently at the 2019 First-Year Experience® Conference, held February 15–18 in Las Vegas, NV.
Click here to read a note from Diane
Click here to read a testimonial from a M.D. candidate at the Yale School of Medicine
Follow Mallory's Journey:
Click here for a list of Diane Shader Smith's speaking engagements 
Listen to a clip from the audiobook below:
Articles, Video & Audio segments:
Los Angeles Times: "A memoir unlike any you've read: A young woman's inspiring struggle with her invisible killer:"
Buzzfeed: "How I Used the Ocean to Treat My Cystic Fibrosis"
CBS Los Angeles: "People Making a Difference: Mallory Smith's Legacy"
Soundcloud: "Biome" (Written, produced, and narrated by Mallory Smith for a San Francisco NPR affiliate)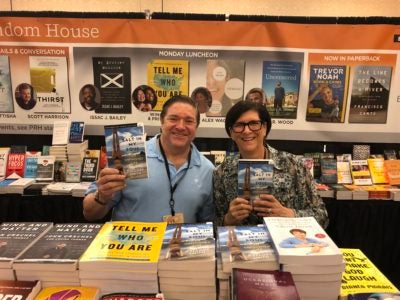 Mallory's parents, Diane Shader Smith and Mark Smith, at the 2019 First-Year Experience® Conference