The Swimmers by Julie Otsuka has been chosen as the 2023 selection for Seattle Reads. The Seattle Public Library provides information on the program: "Founded in 1998, Seattle Reads is a city-wide book group, where people are encouraged to read and discuss the same book. Originally called 'If All of Seattle Read the Same Book,' Seattle Reads was the first 'One Book, One City' program. It proved so popular that that concept has spread across all 50 states and even internationally. These programs are designed to deepen engagement in literature through reading and discussion." Julie Otsuka will visit Seattle May 19–20, 2023 for a series of events hosted by the Seattle Public Library. Otsuka is the only author in Seattle Reads' history whose books have been selected twice. Otsuka's debut novel, the acclaimed When the Emperor Was Divine, was selected in 2005.
---
The winner of the Andrew Carnegie Medal for Excellence in Fiction, The Swimmers is a novel about what happens to a group of obsessed recreational swimmers when a crack appears at the bottom of their local pool.
Praise for The Swimmers:
"The Swimmers is a slim brilliant novel about the value and beauty of mundane routines that shape our days and identities; or, maybe it's a novel about the cracks that, inevitably, will one day appear to undermine our own bodies and minds; and—who knows?—it could also be read as a grand parable about the crack in the world wrought by this pandemic. . . . Otsuka's signature spare style as a writer unexpectedly suits her capacious vision. . . . The Swimmers has the verve and playfulness of spoken word poetry." —Maureen Corrigan, Fresh Air/NPR
"Distinguished best-selling novelist Otsuka's (Buddha in the Attic) latest is an introspective work that examines life's journeys from a multitude of perspectives. . . . Otsuka's spare, dreamlike writing offers readers a deeply touching exploration of the impact on Alice's Japanese American family (particularly her daughter) of caring for a loved one with dementia. Otsuka is noteworthy for her skilled storytelling and her ability to immerse readers in her characters' emotional journeys." —Shirley Quan, Library Journal [starred review]
---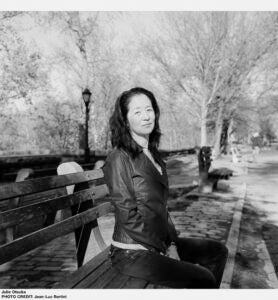 JULIE OTSUKA was born and raised in California. She is a recipient of a Guggenheim Fellowship, and her first novel, When the Emperor Was Divine won the 2003 Asian American Literary Award and the 2003 American Library Association Alex Award. Her second novel, The Buddha in the Attic, was a finalist for the National Book Award 2011 and won the 2012 PEN/Faulkner Award for Fiction and the 2011 Langum Prize in American Historical Fiction. The Buddha in the Attic was an international bestseller and the winner of the prestigious Prix Femina étranger 2012, and the Albatros Literaturpreis 2013. She lives in New York City.