Bryan Stevenson's Just Mercy has a powerful message and is a frequent choice for first year and community-wide reading programs. In his book, the founder of the Equal Justice Initiative delves deep into the broken U.S. justice system, detailing his many challenges and efforts as a lawyer and social advocate, especially on behalf of America's most rejected and marginalized people.
The book was originally published for adult audiences, but these issues also affect many of our young people today. In the video below, Stevenson explains why it is important to discuss corrupt systems in our society and educate young people on how they can take action.
Download the Discussion Guide for conversation starters, tips for using this book in a common reading program, and ways students can take action. Email slmarket@randomhouse.com to request a Just Mercy Community Reads Kit.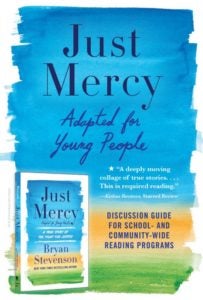 Critics rave about the young adult adaptation:
⋆ "A deeply moving collage of true stories. . . . This is required reading." —Kirkus Reviews, starred review
"As compelling as To Kill a Mockingbird, and in some ways more so." —The New York Times