We are delighted to present our new First-Year & Common Reading Catalog for 2024!
From award-winning fiction and memoir to new books about science, technology, history, and current events, the titles presented in our common reading catalog will have students not only eagerly flipping through the pages, but also excited for the chance to discuss their reading journey when they return to campus. Selected titles include program mainstays as well as new titles from emerging authors that look at contemporary topics and issues facing young people today.
To aid in making your First-Year reading program the best it can be, you will also find information on tools such as discussion guides, customized copies, ancillary materials, and even author appearances.
Reach out to us at commonreads@penguinrandomhouse.com or connect with us on our Facebook, Twitter (X),  and YouTube. If you are interested in print copies of the catalogs, please contact us via email and we will be happy to ship copies for your committee.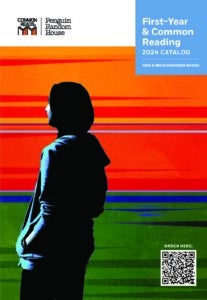 PENGUIN RANDOM HOUSE BOOKS FOR FIRST-YEAR AND COMMON READING 2024