Transcendent Kingdom
, Yaa Gyasi's stunning follow-up to her award-winning novel
Homegoing
is a powerful, raw, intimate, deeply layered story about a Ghanaian family in Alabama.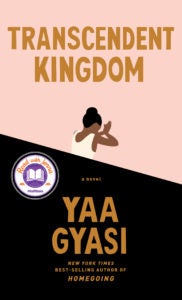 Gifty is a sixth-year PhD candidate in neuroscience at the Stanford University School of Medicine studying reward-seeking behavior in mice and the neural circuits of depression and addiction. Her brother, Nana, was a gifted high school athlete who died of a heroin overdose after an ankle injury left him hooked on OxyContin. Her suicidal mother is living in her bed. Gifty is determined to discover the scientific basis for the suffering she sees all around her. But even as she turns to the hard sciences to unlock the mystery of her family's loss, she finds herself hungering for her childhood faith and grappling with the evangelical church in which she was raised, whose promise of salvation remains as tantalizing as it is elusive. Transcendent Kingdom is a deeply moving portrait of a family of Ghanaian immigrants ravaged by depression and addiction and grief—a novel about faith, science, religion, love. Exquisitely written, emotionally searing, this is an exceptionally powerful follow-up to Gyasi's phenomenal debut, Homegoing.
"Gyasi sometimes reminds me of other writers who've addressed the immigrant experience in America—Jhumpa Lahiri and Yiyun Li in particular. . . . As in the work of Chimamanda Ngozi Adichie or the Ghanaian-American short-story writer Nana Kwame Adjei-Brenyah, the African immigrants in this novel exist at a certain remove from American racism, victims but also outsiders, marveling at the peculiar blindnesses of the locals. . . . Brilliant. . . . Transcendent Kingdom trades the blazing brilliance of Homegoing for another type of glory, more granular and difficult to name." —Nell Freudenberger, The New York Times Book Review
"Laser-like. . . . A powerful, wholly unsentimental novel about family love, loss, belonging and belief that is more focused but just as daring as its predecessor, and to my mind even more successful. . . . [Transcendent Kingdom] is burningly dedicated to the question of meaning. . . . The pressure created gives her novel a hard, beautiful, diamantine luster." —Sam Sacks, The Wall Street Journal
"I would say that Transcendent Kingdom is a novel for our time (and it is) but it is so much more than that. It is a novel for all times. The splendor and heart and insight and brilliance contained in the pages holds up a light the rest of us can follow." —Ann Patchett
Read "The Back Story Behind 'Transcendent Kingdom': Yaa Gyasi Is A Solid Friend" here, via New York Times.
Read an interview with Yaa Gyasi and an excerpt of Transcendent Kingdom here, via The Atlantic.
Read an interview about religion and faith with Yaa Gyasi here, via The New York Times Book Review.
Read the book review, "Faith and fury in Transcendent Kingdom" here, via The Boston Globe.
Watch Yaa Gyasi in conversation with Arielle Gray of WBUR: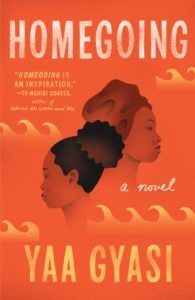 Winner of the National Book Critics Circle John Leonard Prize and the PEN/Hemingway Award, Homegoing follows the parallel paths of two half sisters and their descendants through eight generations, from the Gold Coast to the plantations of Mississippi, from the American Civil War to Jazz Age Harlem. Yaa Gyasi's extraordinary novel illuminates slavery's troubled legacy both for those who were taken and those who stayed—and shows how the memory of captivity has been inscribed on the soul of our nation.
"Thanks to Ms. Gyasi's instinctive storytelling gifts, the book leaves the reader with a visceral understanding of both the savage realities of slavery and the emotional damage that is handed down, over the centuries. . . . By its conclusion, the characters' tales of loss and resilience have acquired an inexorable and cumulative emotional weight." —The New York Times
"Homegoing is an inspiration." —Ta-Nehisi Coates
"Brims with compassion. . . . Yaa Gyasi has given rare and heroic voice to the missing and suppressed." —NPR
"Powerful. . . . Compelling. . . . Illuminating." —The Boston Globe
Find the educator's guide for Homegoing here.
Yaa Gyasi is available for speaking engagements. Contact the Penguin Random House Speaker's Bureau for more information.