Colson Whitehead has won the
Pulitzer Prize
for his novel,
The Nickel Boys
. This is his second Pulitzer Prize (his novel
The Underground Railroad
won in 2017) and he is only the fourth writer—alongside Booth Tarkington, William Faulkner, and John Updike—to win two Pulitzer Prizes each in the Fiction category.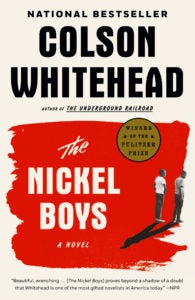 Winner, ALA Alex Award
Winner, Kirkus Prize for Fiction
Finalist, National Book Critics Circle Award
Finalist, Los Angeles Times Book Prize
Longlisted, Aspen Words Literary Prize
Longlisted, Orwell Prize
In The Nickel Boys, Colson Whitehead brilliantly dramatizes the story of two boys sentenced to a hellish reform school in Jim Crow-era Florida. Based on the real story of a reform school that operated for 111 years and warped the lives of thousands of children, The Nickel Boys is a devastating, driven narrative that showcases a great American novelist writing at the height of his powers.
"Colson Whitehead continues to make a classic American genre his own. . . . The narration is disciplined and the sentences plain and sturdy, oars cutting into water. Every chapter hits its marks. . . . Whitehead comports himself with gravity and care, the steward of painful, suppressed histories; his choices on the page can feel as much ethical as aesthetic. The ordinary language, the clear pane of his prose, lets the stories speak for themselves." —The New York Times
"[A] stunning new novel. . . . The Nickel Boys is a beautiful, wrenching act of witness, a painful remembrance of an 'infinite brotherhood of broken boys,' and it proves beyond a shadow of a doubt that Whitehead is one of the most gifted novelists in America today." —NPR
"Whitehead's new novel . . . is in many ways a continuation of his reassessment of African American history. But The Nickel Boys is no mere sequel . . . it's a surprisingly different kind of novel. . . . Whitehead reveals the clandestine atrocities of Nickel Academy with just enough restraint to keep us in a state of wincing dread. . . . It shreds our easy confidence in the triumph of goodness and leaves in its place a hard and bitter truth about the ongoing American experiment." —The Washington Post
"Were Whitehead's only aim to shine an unforgiving light on a redacted chapter of racial terrorism in the American chronicle that would be achievement enough. What he is doing in his new novel, as in its immediate predecessor, is more challenging than that. . . . He applies a master storyteller's muscle. . . . The elasticity of time in The Nickel Boys feels so organic that only when you put the book down do you fully appreciate that its sweep encompasses much of the last century as well as this one. . . . A writer like Whitehead, who challenges the complacent assumption that we even fathom what happened in our past, has rarely seemed more essential." —The New York Times Book Review