By Amber Bauer
5th Grade Language Arts Teacher at Conger Elementary School
Delaware, OH
As teachers, we all know that little pit you feel in your stomach when your principal says, "How would you feel about . . . ?" Six years ago, my principal came to me asking if I would take over a pen pal program that had been started by a teacher from another district. My fifth-grade students would be paired with local senior citizens, and they would write to each other discussing books that they were reading. The concept intrigued me, so I set about figuring out the logistics.
I teach fifth-grade language arts to around 110 students, and I decided it would be easiest if they all read the same book. While students and seniors discussed the book and life in general in their letters, we expanded our learning using other books, classroom activities, and discussion. At the end of the program, we had a party and all of the pen pals met in person.
This year, a new community partner joined our program: a local ecological center. They wanted us to use a book that had some kind of farm connection. I spent a long time trying to find the right book. By chance, our librarian was telling me about her new favorite book, Unusual Chickens for the Exceptional Poultry Farmer by Kelly Jones. After the first chapter, I knew this was the book for our program.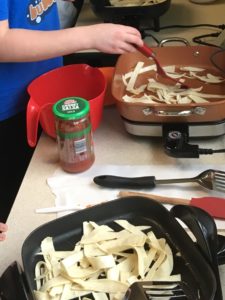 I would describe this book as realistic fiction with a lot of facts and a sprinkle of magic. It is also largely told through letters, which makes it the perfect choice for a pen pal project. It was loved by both the seniors and the students. We were able to do a lot of research about chickens, and we even read the books Sophie reads to her chicks and made the migas recipe from the book.  After the author learned about our project, she kindly Skyped with our classroom. The kids loved it! Although our district actually has quite a few author visits, this seemed more special since they didn't have to "share" her with any other grade levels or schools.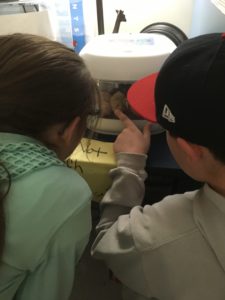 We also had a guest speaker who is a veterinarian and raises chickens. After speaking with her, we incubated eggs. We had a live feed so that students and families could watch the chicks hatch from home. In order to gain the principal's approval for the project, the kids had to do research and make a presentation about raising chickens. They had to learn how to incubate the eggs and how to care for the chicks. The kids are over the moon in love with the little chicks!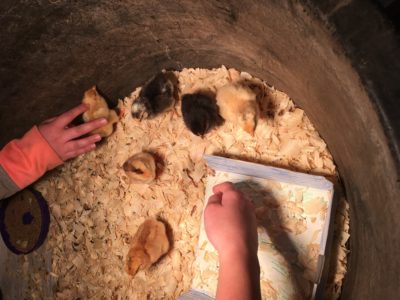 We are currently learning about different kinds of poetry and practicing writing poems about chickens and the book, and we are making a poetry booklet to give to our pen pals at the party. Here is a sample:
Eggs. Incubator.
Hatching eggs. Pip, crack, peep. Chicks!
Adorable chicks!
There is a chick egg,
It will be hatching today,
It is so cute! Yay!
That leads me to the true magic of this program. Seeing the seniors and students spend time together in person is the stuff teachers' dreams are made of. In a world where we need more connectedness, this program joins two groups who would otherwise most likely never meet. It builds understanding and compassion where there is often misunderstanding and even distrust. Some matches continue to stay in touch even after the program ends.
I work in a low-SES school, and many of the kids face challenges both in and out of school. The kids who don't "do school" well always get the most out of this program. I've had kids whose letters to their pen pals were the only work they completed all year. Even kids with significant behavioral issues have always been impressive the day of the party. The magic is truly palpable. This program is a lot of work for me personally, but it has been my greatest reward in eighteen years of teaching. What started as a pit in my stomach years ago has grown into a heartwarming project for everyone involved.
Cover photo credit: W. Daquilla