Saugatuck Elementary School in Westport, CT, kicked off their second annual One Book, One School initiative by choosing Holly Goldberg Sloan's Appleblossom The Possum this Spring.  Sloan's story follows a family of adorable marsupials as they make their way into the world, and learn life lessons that are applicable to all students along the way, serving as the perfect addition to any community reading or all-school reading program.  The school set a schedule for their participating families: a certain amount of chapters were to be read aloud at home for three weeks, and the school provided ways for the families to connect with each other. Through a series of trivia questions, arts activities, and an online forum for all grades to contribute to, the school teachers and administration integrated their parent community into the student's school experience.
Holly, author of the critically-acclaimed and award-winning book Counting by 7s, has seen lots of classroom adoptions and community reading projects geared towards this book. And she was thrilled to hear the school had selected her second novel, Appleblossom, as she described how perfectly the plot of the book meets the purpose of the program: "The idea of focusing a group around a single book creates a single conversation with many voices. The book is about families. And a school is a family."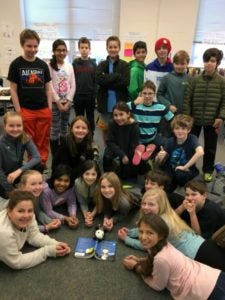 Holly's most recent book, Short was published this January.
LISTEN to a clip from the APPLEBLOSSOM THE POSSUM audiobook read by Oscar-winning actor Dustin Hoffman: 
Content for this article was adapted from School Library Journal's article.