Dion Graham has become a familiar voice to both adults and children for his riveting reads of important and beloved books. A multiple Audie Award–winning and critically-acclaimed actor and narrator who has performed on Broadway, off Broadway, in films, and in several hit television series including HBO's The Wire, Graham's recent audiobook recording of Matthew Desmond's EVICTED was named a winner to the 2017 Reference and User Services Association (RUSA) Listen List for Outstanding Audiobook Narration. This award highlights extraordinary narrators and listening experiences that merit special attention by a general adult audience and the librarians who advise them. EVICTED was also the winner of the Andrew Carnegie Medal for Excellence in Nonfiction.
Library Journal said of the audio in a starred review, "This timely examination of some of the root causes of systemic poverty is flawlessly read by Dion Graham." And AudioFile concurs, "Narrator Dion Graham brings to life the struggles, frustration, and tragedies of the impoverished in an audiobook that explores life at the margins of shelter…Graham solemnly narrates Desmond's prose and breathes life into the different people presented throughout the book…[he] executes a balancing act of tone and emphasis…"
Graham has been named a Golden Voice by AudioFile Magazine, a Booklist Voice of Choice, and recently won an Odyssey Award from the American Library Association.
Dion Graham will be attending FYE 2017 Will you be there? Don't miss him on the FYE panel Learning to Listen. More info here

We asked Dion to share a little bit about the magic of audiobook narration, and what it was like to record some of his favorite titles:
DION GRAHAM TALKS AUDIO… "I LOVE FALLING INTO A STORY"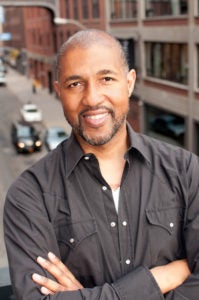 "Why do I love being a narrator?  I love being a narrator because I get to tell stories. Every book is like diving into a new adventure. We get to sail the imagination, to spelunk the human heart. I love falling into a story and coming back to tell you about it. The art of storytelling, and connecting through story, is as old as we are. I'm privileged to share all kinds of stories with you. I hope that, in the telling, we all see ourselves and others with new eyes—and ears."
ON HIS RECENT RECORDINGS…

"EVICTED by Matthew Desmond is a devastating look at how evictions contribute to continuing the cycle of poverty in America. Impeccably researched and told with great empathy. Essential listening for all Americans." 

"
THE CIRCLE by Dave Eggers is a rollercoaster ride of 'what if?'…a cautionary tale, indeed. I always love narrating Dave Eggers' work and I loved narrating this."
Audio Praise: "Graham's assured narration intensifies Eggers' prose and offers a chilling glimpse into a future world."—Booklist, starred review
"
This audio edition of GRIMM'S FAIRY TALES might not be your father's or mother's version—however, it might be your great great grandparents' late night morality tales. I had a lot of fun bringing the story 'The Twelve Huntsmen' to life."
Audio Praise: "Each story is given star treatment by the eclectic roster of readers…Each brings their own unique storytelling skills to their respective stories, making for a captivating listen."—Publishers Weekly
"
BALL DON'T LIE and that's the truth. I just finished narrating this one by Matt de la Peña and it is a doozy of a ride. Told by 'The Game,' it's no hero's journey, coming-of-age cliché. It's about a kid growing up in a difficult situation and finding himself through the game of basketball. It's an amazing book. I had a ball narrating it."
Book Praise: "Teens will be strongly affected by the unforgettable, distinctly male voice; the thrilling, unusually detailed basketball action; and the questions about race, love, self-worth, and what it means to build a life without advantages."—Booklist Best Books for Young Adults
"
SHAKER is a delicious little piece of mayhem from Scott Frank. Earthquakes, murder, old secrets, and redemption in the City Of Angels. Some might say it's a book for our times. Who wouldn't love to tell this potent tale? I sure did."
Book Praise: "A total page-turner first novel from an award-winning screenwriter and an absolutely new voice to watch on the suspense scene."—Library Journal, starred review

"
AMERICAN WAR by Omar al Akaad
is dystopia that feels all too possible. I loved diving into it."

Advanced Praise: "AMERICAN WAR is an extraordinary novel. El Akkad's story of a family caught up in the collapse of an empire is as harrowing as it is brilliant, and has an air of terrible relevance in these partisan times."—Emily St. John Mandel